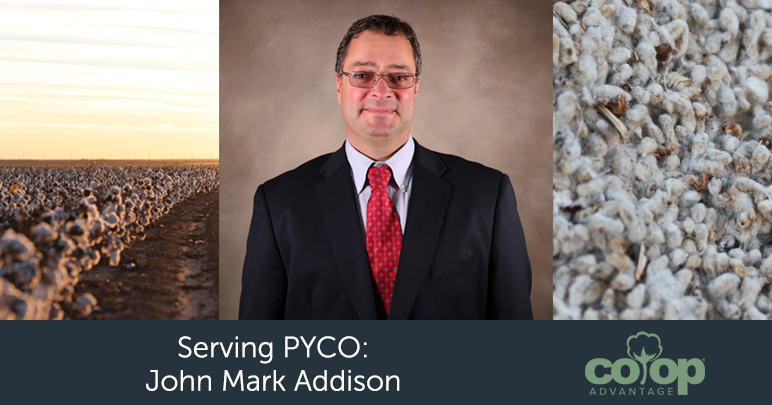 John Mark Addison, a third-generation Terry County producer, is the newest PYCO Industries, Inc. board member and the first in nearly a decade.
PYCO President and CEO Robert Lacy said he is proud to have the addition of Addison on a board that has little turnover due to tremendous commitment.
"We're really 'the quiet giant' at PYCO," Lacy said. "Our board members are true leaders in each of their communities. We work to serve our grower-owners without looking for a pat on the back or the spotlight. Our job is to serve, and that's why so many of our board members have remained for decades. The addition of John Mark is continued proof of the leadership our board represents for all who depend on us for sustainability across the supply chain."
Ever humble, Addison said he feels it his duty to give back.
"PYCO is such a strong cooperative," he said. "I'm lucky to be a board member. PYCO already is so well-organized and offers so much to everyone across the supply chain in added value. Becoming a part of this allows me the opportunity not only to learn, but also to be a part of a larger voice."
That larger voice, Addison said, is one of the greatest advantages of being part of local and regional co-ops.
"Together, in the agricultural industry, we are so much stronger," he said. "It's really quite simple. Our voices in a cooperative are greater than being an individual, our investments create sustainability across the supply chain, and as a whole – we are stronger."
Addison said he encourages others to be part of local and regional co-ops.
"The advantages to being part of multiple co-ops are endless," he said, "And the return is great. Add to that a strength in numbers. People are working for you at every level – with your best interests in mind."
Addison credits his grandfather, Milton Addison, as one of his greatest mentors.
"He put things together from nothing," he said. "He taught me the love of farming at a young age, to love the land and to be proud of it."
His grandfather would be honored. Milton Addison's original 1,500 acres has now grown to 5,000 acres of love and pride.
Addison's family pride includes his wife, Kelly, who works for the District Attorney of Brownfield, and his three children, Grant, Landen and Sam.
Addison, who joined the PYCO Board in January, said he looks forward to his duty to the continued service that is his mantra.
"It's important to step up to positions like this in order to keep things viable," he said. "It's a duty for the sake of our communities and our industry."
That is the Co-op Advantage.