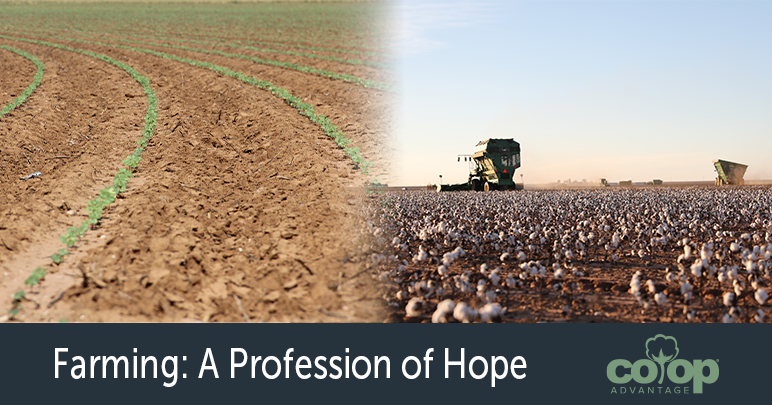 Planting a seed is believing in tomorrow.
It is no secret that agriculture is filled with ebbs and flows. Some years are more difficult than others due to mother nature, volatile markets, and other external forces growers are unable to control. Still, these stewards of the land show up to keep farming day after day and year after year. Why? Because farming is a profession of hope. Despite the challenges they face, farmers are tenacious and resilient because they believe in tomorrow.
As planting season quickly approaches, the hope of a new crop year is fresh and strong in farming communities. Thoughts of sustainable farming practices swirl in the minds of producers so they can ensure the future generations of their families have the chance to farm if they so desire. Business preparations take place to ensure they get the most value they can from their crops. Just like farmers take pride in caring for the land to make sure it is here tomorrow, cooperatives take pride in caring for their farmers to make sure they are here tomorrow, too. Co-ops are in it for the long haul, just as their grower-owners are.
From dividend payments to stock retirements, book credits, and more, cooperatives add value to producers' bottom lines at every opportunity, helping ensure long-term profitability. They also provide a variety of additional services to make their patron's lives easier so they can focus on what they do best: farming.
Ultimately, farmers understand that while the land they till is theirs for a short time, it always belongs to the next generation. They practice sustainability in their farming methods and in the business side of the operation by gaining real ownership through local and regional cooperatives. In turn, those cooperatives add value for the farmers at each level of the supply chain.
The Co-op Advantage wishes all growers a prosperous crop year.
For a deeper dive into sustainable farming practices and the advantages of doing business cooperatively, be sure to visit the following resources.