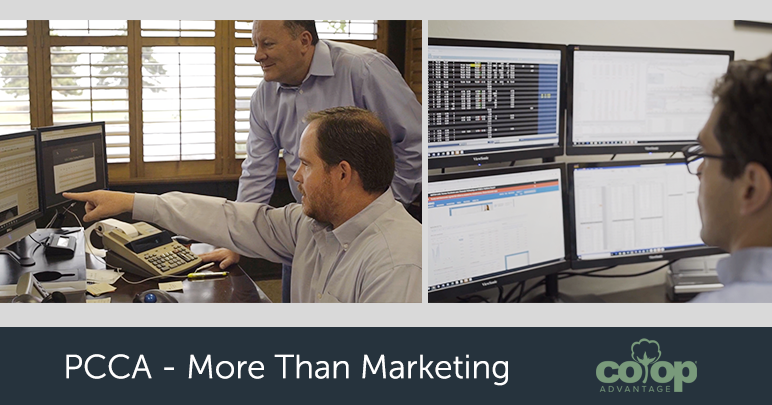 In our last blog, we outlined the final step of the supply chain – cotton marketing. At this step, grower-owners reap the benefits of added value through multiple marketing opportunities offered by Co-op Advantage® regional co-sponsor Plains Cotton Cooperative Association.
From offering services to area gins, Member Access to grower-owners, warehousing and problem-solving in the field, PCCA provides more than marketing.
"Added value is always priority one," said Charley Triplett, PCCA Vice President of Member Services. "Everything we do at PCCA is with the first thought of adding to our grower-owners' bottom line, and that begins with strong relationships and constant communication. We are based right in the middle of cotton's geographical footprint. We are always physically out visiting with grower-owners to find out their needs, concerns, questions and comments to solve problems and offer support."
PCCA is especially focused on multiple gin services, always with the goal of adding to the producers' bottom line. PCCA's gin services include:
Module Tracking: This system allows gins to manage their gin module inventory and module processes from field to finished bale through smart phone apps and web-based programs.
Scale Capture: Is gin software for call-in, ginning list, turnout adjustment and scale ticket upload. One of the greatest benefits of scale capture is that the program ties directly into PCCA's Gin Accounting software and will interface with bale handling systems.
Gin Accounting: Offering its gin customers a state-of-the-art, full-service accounting program, PCCA is able to process all accounts receivable, accounts payable, payroll, inventory control and financial reporting needs.
Along with these gin services, PCCA also provides grower-owners with a platform to access their crop and account information when needed. Member Access includes many important features to help make information and services readily available to grower-owners – and with greater ease – including accessing gin account information, invoice statements, the PCCA check register, patronage statements and more. This system can be accessed online or through a mobile app.
"No two days are the same at PCCA," Triplett said. "It's always fast-paced, and we work hand-in-glove with every other step of the supply chain."
From the farmer first putting seed into the ground to ultimately marketing cotton domestically and abroad, Triplett said it's important to be part of local and regional co-ops across the supply chain.
"With vertical integration, grower-owners are able to extract value at every level," he said. "The advantage of being part of multiple co-ops is having control and input at each step. It's the next best thing to owning a business yourself at every level."
That is The Co-op Advantage.