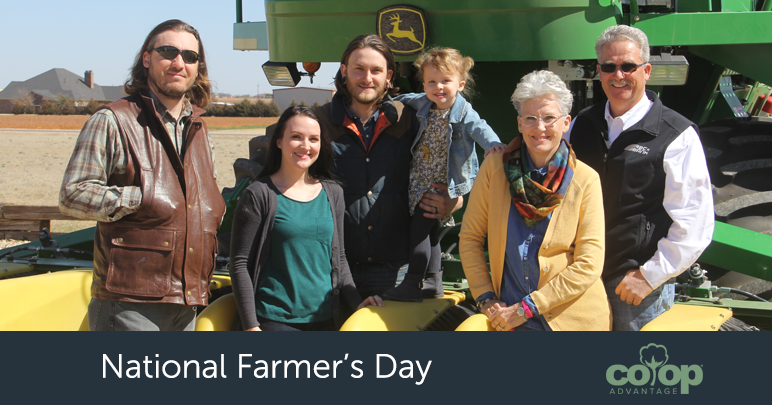 Since very early in American culture, a farmer's endless hard work has been an example to all of us, and on this day – National Farmer's Day – we thank you for the many contributions to our nation.
The Co-op Advantage®️ takes it one step further this year to recognize producers who go above and beyond to sacrifice additional time to serve on local and regional co-op boards.
All grower-owners embrace volunteerism, but it is the most humble who take that extra step.
PCCA Co-op Board Member and New Home, Texas producer Dahlen Hancock is one such example.
"Commitment was taught to me by my Grandad and Father," Hancock said. "It's because of them and other mentors that I want to give back – and that all starts with community."
Hancock, who also serves as current chair of Cotton Incorporated, past chair of Cotton Council International and past chair of his local co-op gin board, doesn't see serving on boards as a sacrifice. In fact, he sees it as doing what he needs to do for his lineage, specifically pointing up to his forefathers and ahead to the next generation of his family.
"The co-op system is an extended family, not just mine … but extending locally and nationally," he explained. "But specific to me, I want to take what my grandfather and father taught me, and extend it to my two sons, Zach and Matt, and even to my granddaughter – Cora."
Hancock's wife of 32 years, Jody, is another extension of support in his time as a board member.
"I'm so grateful for the sacrifice she makes for the time it takes," Hancock said. "While I'm passionate about being part of co-op boards, it takes the support of my wife to be part of the process."
No doubt, he applies his passion in everything he says, and in his commitment to what he does.
Equally passionate is FCC Co-op Executive Board Member and producer Freddie Maxwell of Sudan, Texas.
When asked why he spends time on a board outside of a 24/7, 365-day job as a grower-owner, he was quick to answer.
"I've always wanted to be part of what's best for agriculture," he said. "Being part of a co-op, and even more – on a board – allows you to have a voice."
Being part of the co-op system, Maxwell explained, allows grower-owners to follow through from seed to bales to a pool marketing system.
"It's long-term thinking like none other," he said. "I have an appreciation being part of a board and an understanding of just how much co-ops look to serve their producers. Bottom line, year in and year out – you're always ahead being part of a co-op."
This National Farmer's Day, we appreciate all producers. Today, especially, we thank those who go one step beyond to sacrifice additional time to serve on local and regional co-op boards.
Thank you for being The Co-op Advantage.