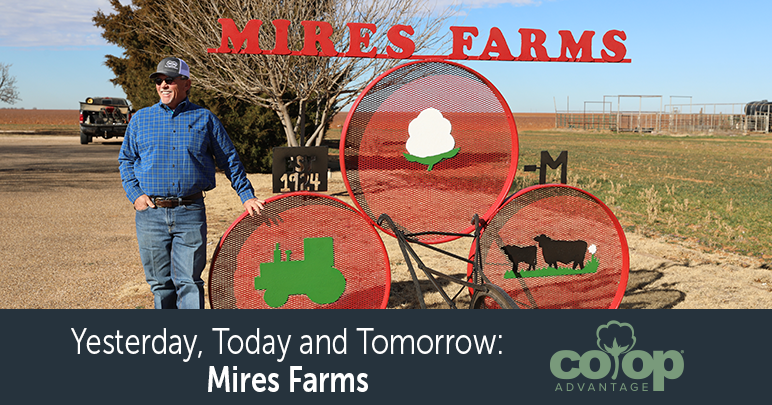 Travis Mires is the epitome of every dedicated producer in our nation's largest cotton patch. He is proud of what brought him to where he is, humble in what he does every day, and optimistic in what he's passing on to the next generations within the Mires Farms family.
Mires Farms will celebrate 100 years in 2023, making Travis the fifth generation of a family that first came to West Texas by train in 1923. Now, with his wife of 35 years, Travis leads two more generations to continue the farm into the future.
"I have three grown children, all involved in the farming business in one way or another," Mires said. "As for Mires Farms, it's my son and 8-year-old grandson that are most-focused on Mires Farms."
Mires particularly beams as he discusses the ingrained love of farming he already sees in his young grandson.
"Seeing my grandson is so much of what I think about," Mires said. "I think I'm like any normal proud grandpa to see him wanting to be involved in all things farming – that is, as long as I let him hunt a bit here and there along the way."
Mires said he considers himself a convert to the world of co-ops. But once converted, he dove all in.
"In 1988, I was introduced to bringing my cotton to a co-op gin, and from then on I knew it was the only way to go," Mires said. "I immediately saw the benefit of an open-book policy and knowing that everything you put in goes back to the system."
Mires has gone on to be a delegate to the National Cotton Council and recently was elected to the board of The Co-op Advantage®️ regional co-sponsor PYCO Industries, Inc.
"Being part of a co-op makes it all worthwhile by allowing producers to do their work, while the co-op works for you," he said.
As for his philosophy working the farm, lessons learned from generations before him and lessons he passes forward, it's quite simple:
"To all the young farmers, I always say this isn't a way to get rich, but it sure is a good way of life. I know one thing for sure, and that's the land provides – the Lord provides that land for us to use – and I'm honored to be part of cultivating that land for the better."
Mires is sound proof of a farmer's heart. He loves his family, respects his land and honors the Lord that provides for all.
Congratulations, Mires Farms, on your upcoming century mark. You are a steadfast example of our nation's great American stories.