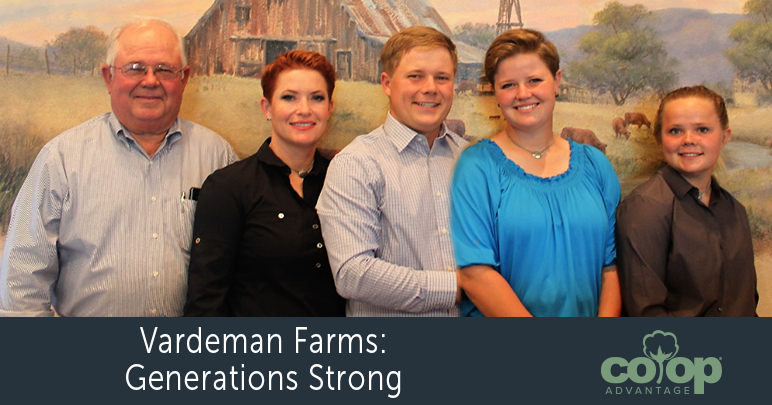 It's tough to find a producer who isn't passionate about their career. Lacy Vardeman is no exception.
She and her husband, Dean, are second-generation farmers of Vardeman Farms which covers 7,000 acres across Lubbock, Hockley and Lynn counties. Their three children, Ty, Molly and Abby will be the third generation to take over the family business.
"It's a family affair," Vardeman said. "Our business also includes my brother-in-law, Keith, his wife Leslie, and their son, Scott."
They also have an additional two employees who have been with them for more than 25 years.
"So much has changed since the generation before us," she said. "The biggest being technology. We've learned to protect the land more, developed ways to spray less with fewer chemicals and farm more acreage with fewer hands due to better equipment, just to name a few."
Embracing technology, she said, is the greatest lesson she learned from the first Vardeman farming generation. Across the board, technology has improved farming and benefitted not only the land, but the products of both food and fiber.
A strong advocate and member of the National Cotton Council, Vardeman also stands firm in her support of being part of local and regional co-ops.
"I have to be honest when I say I once thought every producer was part of a co-op," she said. "I was quite surprised to learn years ago that some are not. As producers, we don't gamble with anything else except our livelihood. Co-ops help protect that gamble as much as possible by giving you control, annual dividends and a voice."
Everything Vardeman Farms does, she emphasized, has revolved around participation in cotton industry organizations and co-ops. From involvement in Cotton Incorporated to the more than 40 years Dean has served on local gin boards as well as serving on the board of Co-op Advantage®️ regional co-sponsor Plains Cotton Cooperative Association.
"It's simply unimaginable and unaffordable not to have control in your own business," she said. "Being a part of local and regional co-ops allows you to own a piece of your business, giving you all they possibly can to help beyond the 'gamble' we all take as producers with so many unknowns such as weather, the market, trade and other daily things outside our control."
A consummate pupil of agricultural history, Vardeman speaks openly about the lessons learned from generations past and how caring for the land is so important now and for generations to come.
"Few people have businesses to pass to the next generation," she said. "Producers do. We must not only take care of, but improve the land and leave it better than we came upon it for our children. We do this so they will have it better than we did. This goes back to technology and our constant work to preserve the soil so we hopefully will not have exposed ground again."
As for her advice to the next generation of Vardeman producers, or any next generation, she's quick to answer.
"Love the land and always, always learn to improve in all things," she said.
She lives by that advice herself and truly appreciates the blessings of working in agriculture.
"I'm so very blessed to have been born in the United States, to be a part of this great business we call agriculture and to have a husband and three kids who love it just as much or more than I do."
Passionate about agriculture, dedicated to the cooperative system and always working to protect the land. That is Lacy Vardeman.
That is The Co-op Advantage.