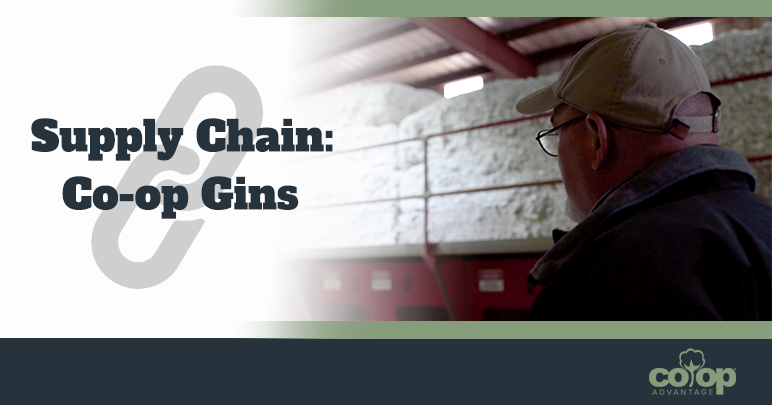 Farmers within agriculture depend on the supply chain day in and day out. Once their cotton is harvested, ginning is the second step in the process – a step where grower-owners know co-ops abound for those in the industry.
"The supply chain – from farmer to ginner to storage to by-products to marketing – is crucial to the success of the cotton industry," said Meadow Co-op Gin Manager Dan Jackson. "In that process, ginning is the second step, and it's a step I'm honored to be a part of."
Jackson is adamant about his loyalty to all producers who are part of the Meadow Co-op Gin, as they depend on the gin to add value to their cotton at this important second step of the supply chain.
It's a guiding principle that is proven by grower-owners and co-ops to add value not only to producers, but also in making an economic impact upon the communities in which they live.
For Jackson, it's all about priority.
When asked, Jackson couldn't decide on his favorite part of the ginning process.
"It's the whole process," he said. "I love every bit of it, how it evolves, yet how it stays the same in many ways. It's all about the dedication to the people with whom I work, and that process is the constant I continue to love."
To growers across the supply chain, it always comes back to family. Not just their personal family – but the extended family of grower-owners.
"Producers are part of our family," he said. "They own this gin. Grower-owners are my bosses, and we must be efficient in everything we do for them. That's priority one."
Jackson paints a picture of a pie when discussing being part of multiple local and regional co-ops and the importance of having "more pieces" of the pie for greater value.
"There's no greater investment than joining multiple co-ops, because it helps throughout the entire supply system through both strong and lean times," he said. "Being a grower-owner also provides opportunities to invest not only in your family, but also in your community – and that's a huge sense of pride."
By working together, Jackson said, grower-owners come together to provide scholarships for local schools, volunteer for civic and volunteer organizations, assist local fire departments, and the list goes on.
"All of us are dedicated not only to each other, but also to benefiting the economic growth of our communities," he said. "What better way than to be a grower-owner and part of a greater team? That is key to keeping both young and older producers with the biggest part of the pie."
While committed to his Meadow Co-op gin, Jackson encourages grower-owners to be part of multiple co-ops at each level of the supply chain.
"We're all involved at every step, whether fully recognized or not," he said. "Being part of local and regional co-ops at every level makes us just that much stronger across the supply chain."
That is The Co-op Advantage®️.