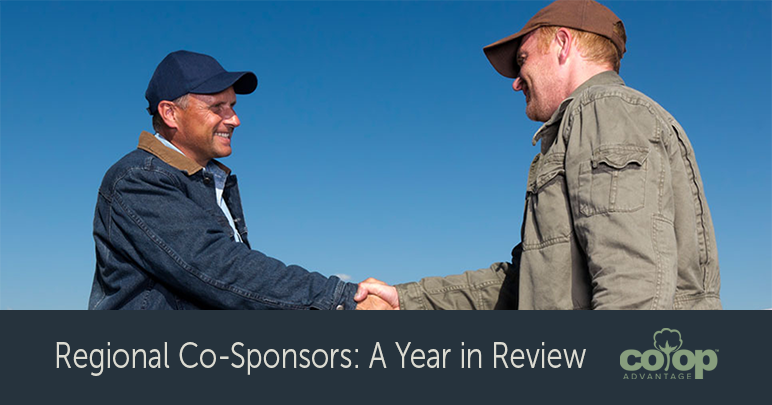 What a year it has been for The Co-op Advantage® and all four regional co-sponsors, Plains Cotton Cooperative Association (PCCA); Farmers Cooperative Compress (FCC); PYCO Industries, Inc.; and Producers Cooperative Oil Mill (PCOM).
The beginning of 2017 began with an orientation bringing in grower-owners from across the region to learn about real ownership and how cotton cooperatives create additional value every step of the way.
Additionally, traditions continued as regional co-sponsors gave back to their communities by supporting local school programs, scholarships, volunteering, and the list goes on. Texas Tech University fans are no strangers to the Celebrate Cotton Game, supported every year by part of The Co-op Advantage co-sponsors, as well as the Celebrate Cotton Fashion Show one week prior to the Cotton Game.
Always a supporter of our regional co-sponsors, Texas Tech regularly hosts co-op staff members to speak to Texas Tech classes in order to foster not only an interest in, but also a knowledge of the agricultural and co-op industries.
In turn, students in the Texas Tech College of Agriculture benefit from the Howard Alford Memorial Scholarship endowed by PCCA.
The year in review is proof of all seven cooperative principles – but especially number seven: Investing In Their Communities.
In this season of giving, that's a selfless principle to be remembered. Grower-owners live and breathe all principles, yet "giving" is a common theme during the holiday season. Our grower-owners do it all the year through.
Finally, regional co-sponsors this year launched The Co-op Advantage. PCCA, FCC, PYCO and PCOM joined forces in an effort to remind all grower-owners of their benefits being part of a co-op and to encourage those who have not yet joined to consider the proven, successful business model of membership.
The Co-op Advantage has already proven to be a successful campaign, with thousands of grower-owners now following – and regularly engaging – in social media and the website through multiple posts, reading monthly blogs and watching videos and subscribing to the monthly newsletter.
The Co-op Advantage is grounded in tradition and invested in your future. So, as we reflect on the past year. Stay tuned. The future is bright, and the investment continues.
Until then, thanks to all those along the supply chain for selfless giving all the year through – and may it come back to you many times over this holiday season and into a prosperous New Year.