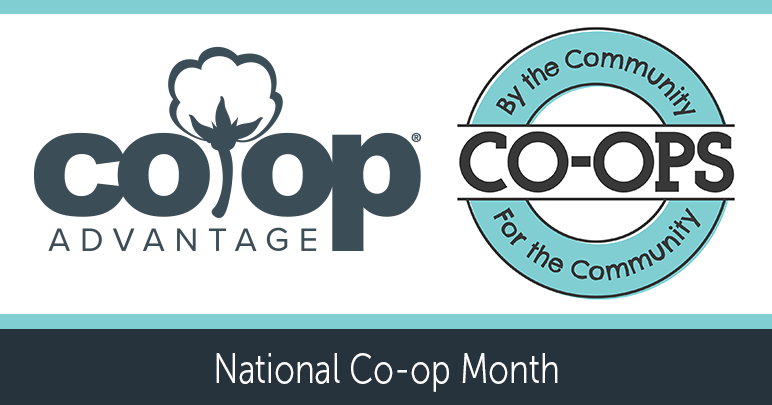 Rural strength is at the core of true co-ops. As we enter National Co-op Month, it's no wonder this year's theme is "By the Community, For the Community."
For the cotton industry, it's a fitting theme, as co-ops across the region are a tremendous example of giving back year 'round to the economic sustainability of their communities. Local and regional cooperatives ensure money stays local, assisting operations of grower-owners' farming operations and ultimately strengthening the economy of rural communities.
Across our nation's largest cotton patch, rural communities depend on our producers, and producers depend on their communities. Examples abound of communities coming together to lend a hand in providing meals, finishing a crop and moral support to farmers in need. Likewise, co-ops give back to their communities in many ways.
"Investing in community is a steadfast principle of the cooperative system," said Kevin Brinkley, President and CEO of Co-op Advantage®️ regional co-sponsor Plains Cotton Cooperative Association. "Our communities are deeply loyal to agriculture, and it's an honor to invest in our area communities beyond the field."
Local and regional co-ops and their grower-owners are regularly seen volunteering for local schools, civic organizations, sports programs, churches and donating scholarships and sponsorships for children, seniors, veterans and charities of all kinds.
"It's so important to be a good neighbor," said New Home Co-op Gin Manager David Weid. "While we're here to serve each other within the co-op system, it's equally important we're serving our community that serves us."
Weid, both a producer and a gin manager, is just one example of this month's theme, "By the Community, For the Community," as he has served as a deacon at his church, on the local school board, in addition to supporting the Bayer Museum of Agriculture and participating in the Wilson Lions Club.
"Cooperatives represent a strong business model and greatly contribute to both the national and local economies," Brinkley said. "They generate jobs in their communities, keep profits local and pay local taxes to help support community services."
Co-op Month has been nationally recognized and celebrated since 1964 when U.S. Secretary of Agriculture Orville Freeman proclaimed October as Co-op Month. The first national theme in 1964 was "Cooperatives: USDA Helps Build a Better America."
Today, co-ops serve 140 million members nationwide.
By the community and for the community are how co-ops began. By sowing the seeds of cooperation, true co-ops serve family farms and rural communities to carry on a legacy for generations to come.
That is The Co-op Advantage.