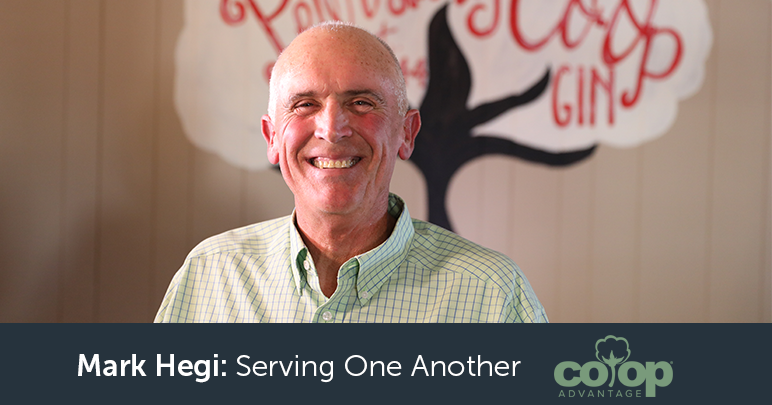 No doubt about it, West Texas farmer Mark Hegi has a servant's heart.
It was taught to him by his father, who taught him to love the land. Hegi has passed along the same message to his own three children – especially his son – who now works alongside Hegi who recently completed his 38th crop.
"We are luckier than we know (as farmers)," Hegi said. "I believe the mark of a good man is leaving the land better than you found it, and recognizing you're always working with God's nature."
A servant to the land, Hegi is also a true believer in being of service to others. Being neighborly, as he puts it, is not only the right way to be, but the necessary way to be as good farmers.
Hegi points to The Co-op Advantage®️ and its four regional co-sponsors as examples of the servant leadership provided to those across the supply chain every day.
"Each of the Presidents (Plains Cotton Cooperative Association, Farmers Cooperative Compress, PYCO Industries, Inc., and Producers Cooperative Oil Mill) are examples of servant leaders," Hegi said. "We are luckier than we know. They (regional co-sponsors) are all led by outstanding men who are always looking out for the good of those they serve."
True co-ops, Hegi emphasized, are servants in the way that they exist not for themselves but for their patrons. And, he added, being part of a co-op is valuable all times of the year.
"They're always working for you."
Serving one another, as co-ops do for their grower-owners, is something Hegi is adamant about among fellow farmers as well.
"We must always serve one another, as well as our communities. From the way we use water, to the way we protect our land for future generations, to just being neighborly and always, always giving back to our communities in which we live."
Now – with six grandchildren, Hegi beams as he looks to another generation to learn his words of wisdom. Called, "Pops" by the grandkids, Hegi said one of his favorite parts of farming is seeing his grandchildren on the farm as they learn firsthand the workings of combines and tractors, always alongside his son.
All working on the land that was once Hegi's grandfather's.
A man filled with faith, love of family and his career in farming, Hegi is the epitome of a man with a servant's heart.
"Farming is a work with God's nature. You simply can't look at a sunset every week in the fall and not know we have something bigger than all of us."