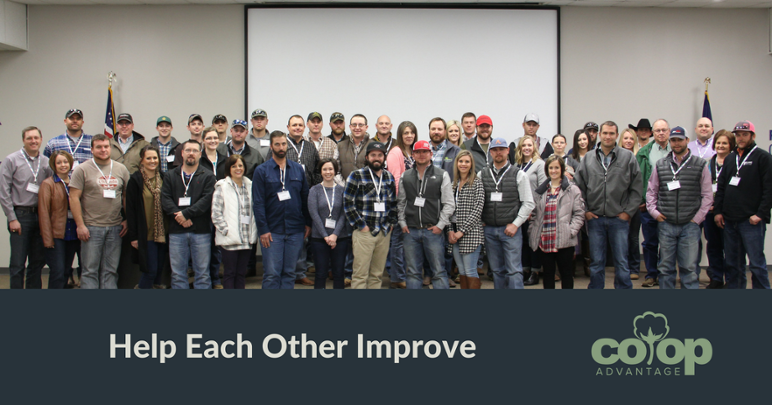 As a grower-owner, you can rest assured you have the added value of education, training and information within a co-op. Grower-owners also inform the general public about the nature and benefits of cooperatives. That's the hallmark of principle five – of the seven cooperative principles – in which we're going to take a closer look in today's blog.
Locally, principle five can best be summed up in last spring's 2017 Cooperative Producer Orientation – hosted by the regional cooperatives. In attendance were 46 producers and their spouses nominated by their cooperative gins to attend the day-long orientation and learn not only about the benefits of the cooperative structure, but also how their farming operations benefit from every level of the supply chain; from the gin to each regional cooperative.
Regional Co-op Advantage® sponsor Plains Cotton Cooperative Association (PCCA) gave grower-owners the opportunity to learn more about PCCA's role in actively marketing and providing its farmers stability in an often-uncertain cotton market. Regional Co-op Advantage sponsor Farmers Cooperative Compress (FCC) also played a pivotal role in education, training and information by sharing its history of warehousing and specialized services to help each other improve as grower-owners work to better their bottom line. The orientation gave grower-owners a first-hand glimpse of how FCC handles bales that are received, stored and shipped, and according to FCC President and CEO Ron Harkey, exemplified the importance of providing attendees with a new perspective on the enormous value of having all bales available to merchants and textile mills around the world.
PYCO Industries, Inc., also a regional Co-op Advantage sponsor, made sure to lend a hand for grower-owners. Orientation attendees toured PYCO facilities, many learning for the first time the deeper meaning behind the cooperative's complex operations and how every source of value is literally squeezed from the cottonseed.
Going one step further in messaging, the above information was distributed in an article in PCCA's quarterly magazine, Commentator, to further assure principle five in spreading information to all grower-owners within the cooperative.
Stay informed, as we take a look at principle six – Assist Other Co-ops – in our next blog.