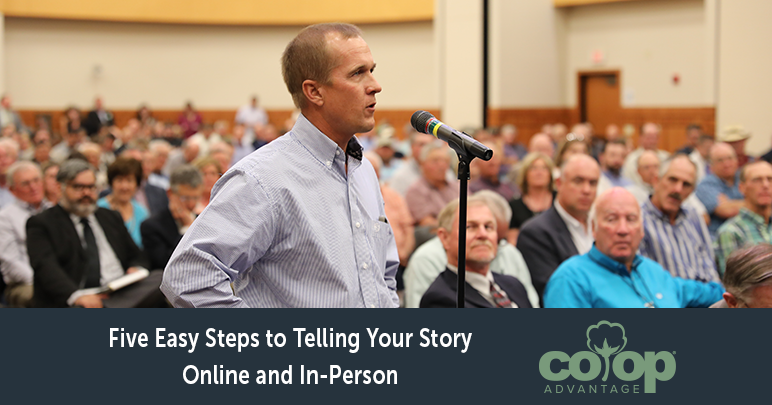 Storytelling in agriculture is different from the daily news. After all, no one can tell a story better than those who live the job each and every day. While some growers may not think their lives are interesting enough to share, consider this: Famous quotes have been inspired by the work ethic of the American farmer. Country songs are born out of the labors of those who work to feed and clothe our nation. And, as of late, it's the stories shared by those all along the supply chain who are making a difference in the minds of legislators for farm policy.
Quite simply, storytelling not only transmits emotions, but also knowledge and experience. At The Co-op Advantage®, we invite our grower-owners to "agvocate" by sharing their stories. "Agvocate" is a term we're using, meaning "to advocate for agriculture."
In agriculture, good storytelling needs more than just a narrative. Here are a few tips on how you can tell your story – in writing or in person – so that it touches hearts and expresses the right message.
Know Your Audience
Understand your audience and motives for telling the story. Ultimately – you are trying to make someone care about something and/or someone else. The most effective storytelling takes place when you can put an audience in your shoes. The audience is key to developing the story, therefore: Understand who the audience is and what they already know about the subject. Do they care about the subject? Do they actually recognize the problem you see as a problem? Do they understand agriculture in the first place? These factors really influence the story you have to tell and provides a starting point.
At The Co-op Advantage, our audience is two-fold: Current grower-owners who already belong to a cooperative; and second, those along the supply chain who don't belong to a cooperative. The goal is to help them understand the benefits of membership. Each of our "stories" at coopadvantage.com and on each of our social media platforms are meant to reinforce our current grower-owners knowledge of the "why" they're a part of their local co-op and to encourage communication among our grower-owners. For those who are not part of a co-op, the goal is to encourage the benefits and advantages of real ownership through our regional co-sponsors.
Have a Purpose for the Story
Storytelling is part of everybody's life. People tell stories for various purposes: to make people care about others, a situation, a condition, or to make them laugh or cry. In this case, we ask you to tell your story to support – or "agvocate" – for agriculture and ultimately help audiences better understand the tremendous work performed throughout the supply chain. The purpose defines the story.
Feel Your Story
It takes more than just an account to tell a story in agriculture. To tell a real story you need to have a connection with it. You need to really feel it and have a need to tell it. Every grower-owner has a story to tell. For instance, is farm policy affecting your livelihood? This summer's listening session in San Angelo garnered dozens of grower-owners across the region to share their stories with legislators in efforts to affect change in making cotton a covered commodity in the next Farm Bill. Legislators not only listened, but they also heard. And what about the work ethic of today's generation? Those in agriculture are examples of the best people to share how true work ethic can once again be instilled in today's generation and generations to come, regardless of the career choices our child