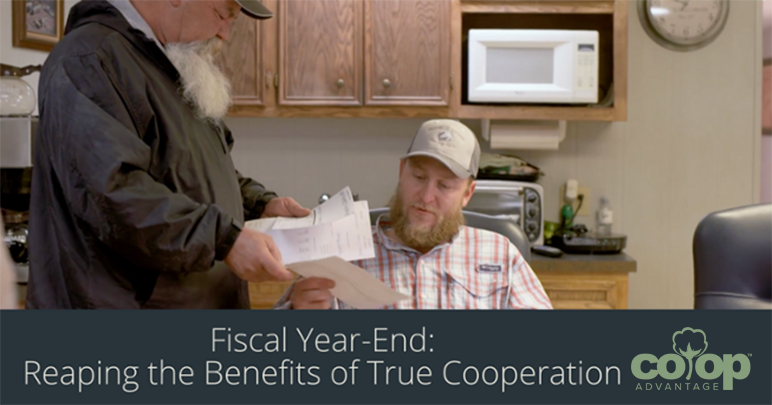 As this year's harvest season is in full gear, The Co-op Advantage® regional co-sponsors recently released their 2016-17 fiscal year-end financials as well as cash paid per ton for cottonseed.
Cash paid per ton translates into money area gins receive from regional co-sponsors for their cottonseed.
For more than six months, The Co-op Advantage blogs have focused on how being a grower-owner is an investment in your future; making money for you, not from you. For those who haven't yet joined a cooperative, how can you be sure?
Simple. The proof is in the numbers. More than $58.75 million in total cash dividends and stock/equity retirements was paid to grower-owners of regional co-sponsors Plains Cotton Cooperative Association, PYCO Industries, Inc., Farmers Cooperative Compress (FCC) and Producers Cooperative Oil Mill (PCOM). Additionally, PYCO and PCOM reported $204 and $189 respectively, in total cash paid per ton to area co-op gins.
How did that happen? It all goes back to the seven cooperative principles each and every regional co-sponsor lives and breathes day in and day out:
Last year was proof yet again that all seven principles worked hand in glove to lend success to grower-owners' bottom lines. And, as all grower-owners know, investing in their future also means investing in their community. A good year in cash dividends and stock retirements not only means a good year for grower-owners, but also a direct impact on our region's economy.
Hard numbers prove the benefit of being a grower-owner. No one along the supply chain is ever alone, nor should they be. As part of a cooperative, grower-owners are guaranteed real ownership, and an investment in the future – helping to balance the unknowns of production costs, weather and market volatility.
For those grower-owners who are already a part of The Co-op Advantage, congratulations on your investment. For those considering your options – stay engaged, and join a co-op. It's a decision you won't regret.
Pure and simple: Investing in your local and regional co-ops pays dividends beyond your farming operation. Your economic impact supports local schools, hospitals, roads and more. By sowing the seeds of cooperation, true co-ops serve family farms that will carry on their legacy for generations to come.
That is The Co-op Advantage.