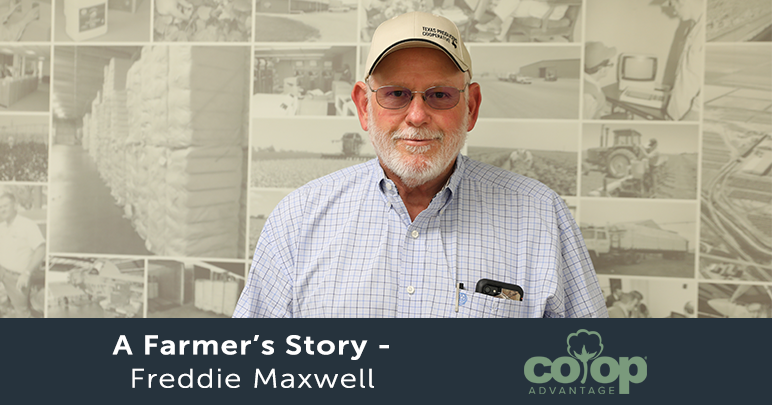 A producer since 1973, Freddie Maxwell looks forward to the New Year.
"God has blessed me and so many others," Maxwell said. "I am blessed to be part of the co-op system and look forward to what He brings in 2019."
A fourth-generation producer and vice chairman of the board for Farmers Cooperative Compress, Maxwell knows the benefits of being a co-op grower-owner. It's in his blood, and he said there's no other way to work – and benefit – in the agricultural industry.
"I've always wanted to be involved in what's best for agriculture," he said. "Being part of a co-op allows so much. Most important being the investment in your future."
Maxwell also applauds the co-op system across the board, especially all four Co-op Advantage®️ regional co-sponsors for their collective voice and consistent work in the recent passage of the  2018 Farm Bill.
On Dec. 12, a bipartisan effort by both the House and Senate provided a meaningful safety net for America's farmers and economic support that specifically touches rural communities. Cotton was returned to the commodity title of the 2014 Farm Bill and it will continue in the 2018 Farm Bill. This provides a safety net for our nation's largest cotton patch and those producers who deserve it in order to provide for their families, while they provide for the country and beyond.
"I'm so grateful for the passage of this Bill," Maxwell said. "People outside of the agricultural industry don't understand the financial risks associated with farming. Our regional co-sponsors were at the forefront of being a strong voice in working to put cotton back in the Farm Bill, and that's tremendous."
Maxwell said the new Bill will be a major benefit to younger producers who have the smallest equity in their business, and also provides greater opportunity for future generations to carry on in the cotton industry.
Maxwell and his wife of 39 years, Pam, already have a fifth-generation producer in their youngest son, Evan, and potentially a sixth-generation producer in grandson, Bentley.
Maxwell beams in naming off all members of his family: Evan, his wife, Ashley, grandson Bentley and a new granddaughter on the way in March. His oldest son, Aaron, is an Abilene paramedic and firefighter. He and his wife, Debbie, have two children, Karis and Ethan.
"Family is everything to me," Maxwell said. "Evan and I work in tandem so often, and there have been times in life I couldn't have completed seasons without him."
The main season in which he's referring is October 2012, when Maxwell suffered a tragic accident involving a semi-truck. Maxwell's injuries left him hospitalized and ultimately in rehab for nearly six months.
"I couldn't have gotten through that season without my son and the trusted friends across the co-op system who stepped in to help," he said. "Good people and the good Lord is what it's always about."
Over and over, that's Maxwell's mantra. "Good people, and the good Lord."
It's also his wish for all grower-owners in 2019:
"May the good Lord continue to bless us in the new year, and may we all see the greatness of good people that make up the co-op system."
Maxwell sums up best just what is The Co-op Advantage.