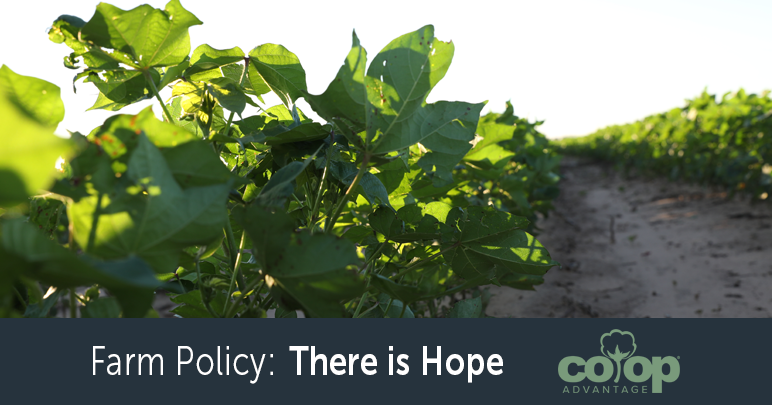 In 1789, Benjamin Franklin said of our Nation's Constitution, in part, "Nothing can be said to be certain, except death and taxes."
A pretty pessimistic comment, but as it pertains to Farm Policy more than 200 years later, one realized by everyone along the agricultural supply chain.
But there is hope for the future as it pertains to all the in-betweens. While tax reform narrowly made it through the House and Senate in late 2017, farmers have held their breath awaiting legislators' work on this year's farm bill.
As all grower-owners know, the industry suffered last year from both Mother Nature's wrath and political whims – from devastating hurricanes and tornadoes to the ramification of cotton's lone exclusion from the Title 1 safety net in the 2014 Farm bill.
But enough of the bad news. Cotton is deeply woven into the fabric of our nation. And, legislators have listened. Beyond that, they are working hard.
Chairman of the House Agriculture Committee Mike Conaway – along with many other supporters of our nation's thin green line of agriculture – has vocalized his commitment to finding workable and reliable policy solutions to ensure a sustainable and viable cotton industry. He and fellow legislators pledged – and succeeded – in making sure cotton is back under Title 1.
Additionally, Conaway has pledged his dedication to enact a new Farm Bill before the current law expires.
So what does this mean for you?
In the February disaster spending package, a seed cotton provision was signed into law that ensures cotton producers have the same risk management tools for their crop as their neighbors who farm corn, grain sorghum and wheat.
Additionally, the USDA rolled out ginning cost share assistance as a lifeline for cotton farmers as they transition back into the Farm Bill's safety net. Without this immediate relief, many would not only be able to pass on their farms, but would be put out of business.
A recent op-ed in the Lubbock Avalanche-Journal quoted President Eisenhower, "Farming looks mighty easy when your plow is a pencil and you're a thousand miles from the … field."
No doubt everyone along the supply chain can relate. In fact, less than 2 percent of Americans grow the crops that clothe and feed the rest of our nation.
To compare, less than 10 percent of Americans defend our Country's freedom.
One, is the thin red line of defense. The other is the thin green line of agriculture. One protects, and one provides. That is what the U.S.A. was built upon.  Combined, less than 12 percent are doing what our forefathers hoped.
Yet our legislators are fiercely focused – thanks in large part – to your comments and local true co-ops working on your behalf. Every farmer knows the job is tough. The Co-op Advantage® is working for you to be sure your voice is continuing to be heard. Loud and clear.
At The Co-op Advantage, we know communication is key.
Bottom line, there is good news. There is hope. While our supporters in Congress cannot fully protect grower-owners from the unknowns of Mother Nature or the volatility of today's market – they are working diligently to be sure you have the necessary tools to compete in the global marketplace and maintain this region as the great agricultural industry it is.
While legislators continue to hammer out further discussion, The Co-op Advantage will continue to keep you informed.
After all, that is The Co-op Advantage. We'll keep you informed.