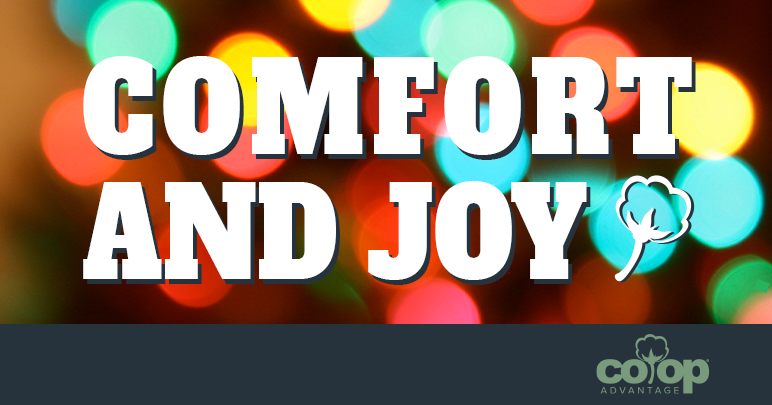 Many blogs have focused on the comfort grower-owners provide their neighbors, their communities and their fellow producers. This holiday season, we wish comfort and joy to all those across the supply chain.
The spirit of the season is known by many as a time of family gatherings, children eagerly awaiting Santa's arrival, the twinkle of holiday lights and festivities abound. Yet for many, this time of year can be stressful.
"It's not a weakness to be stressed this time of year – especially in the agricultural industry," said Kevin Brinkley President and CEO of PCCA, regional co-sponsor for The Co-op Advantage®️. "The key is to recognize stress, and not be afraid to discuss it."
Grower-owners across the supply chain have a unique – yet shared – characteristic in giving back to their fellow man. Throughout the year, communities are supported with school scholarships, charitable giving, civic volunteerism, and the list goes on. Yet often, those same grower-owners won't ask for help when they are in need.
"We want everyone to know that no one is ever alone," Brinkley said. "This holiday season and all the year through, we want all grower-owners to know how loved and valued they are."
With that in mind, we offer the lyrics to the first verse of a holiday classic:
God rest ye merry gentlemen
Let nothing you dismay
Remember Christ our Savior
Was born on Christmas Day
To save us all from Satan's pow'r
When we were gone astray
Oh tidings of comfort and joy
Comfort and joy
Oh tidings of comfort and joy!
Thank you all for the comfort and joy you provide each and every day. May your holidays be blessed, and may you always have love, peace, hope and joy.
You are The Co-op Advantage.