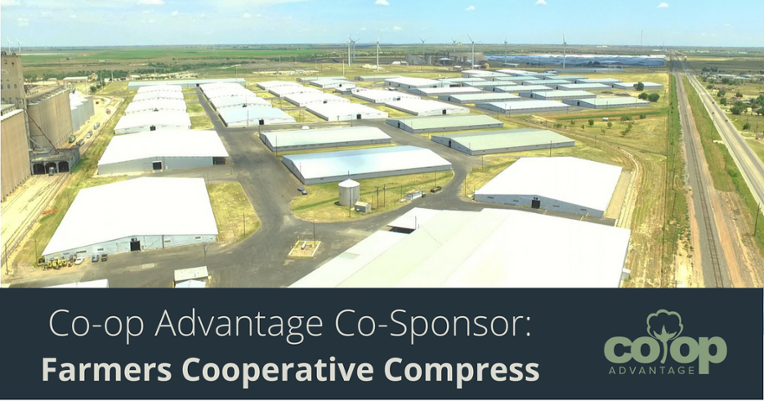 Co-op Advantage® values are rooted in hard work and integrity, and the sponsors who support this initiative are prime examples of that foundation. This week's post highlights Farmers Cooperative Compress (FCC).
A Long History of Success
FCC has been a producer-led cooperative since its inception in 1948 and was formed with the purpose of giving area producers more control over the storage and shipment of their cotton. FCC was established as a way to successfully and affordably house cotton domestically and distribute it globally from West Texas.
What started out with 120 acres and a handful of warehouses has now grown into the largest cotton warehousing entity in the world. Today, FCC's 9,300 members own 208 warehouses with 11 million square feet of space, all spread across warehousing locations in Lubbock, Plainview, Levelland, Floydada, and Stanton. There are 45 cooperative gins that deliver cotton to these FCC facilities. FCC warehouses and delivers about 35 percent of the cotton ginned in Texas which accounts for roughly 17 percent of the U.S. crop.
In addition to a rich history, FCC also has an impressive record. In fact, it has been profitable every year since 1948, reaching the $1 billion mark in dividends distributed to its grower-owners in 2016.
Cooperative Values
FCC is open to all producers who choose to store their bales with the cooperative. Being member-controlled ensures that the cooperative always has the best interests of its members in mind when decisions are made. To help support this model, board representatives are elected by the co-op members who then set policies and provide leadership to the organization.
Ron Harkey, President and CEO of FCC, is well-acquainted with the benefits of a cooperative system and is fiercely dedicated to providing value to its members.
"Our mission states that FCC will enhance member profitability by providing efficient reliable services to the cotton industry. That is what we strive for every day; we strive to stay relevant. That is what cooperatives bring to the table: reliable, efficient, and honest business practices."
Stronger Together
Working with other cooperatives like PYCO Industries, Inc., Plains Cotton Cooperative Association, and Producers Cooperative Oil Mill is another way FCC puts faith in the cooperative system and supports the co-op community. The combined efforts of these regional cooperatives, along with local cooperative gins, provide grower-owners with an effective means to process, market, warehouse, and deliver millions of bales of cotton annually.
West Texas and its communities are the perfect trade territory for FCC as the people who populate this area represent many of the same values FCC holds dear.
"We have some of the best producers, board members, gin managers, and support organizations in the U.S. They are honest, dedicated men and women that love the cotton industry and strive daily to be the best supplier of quality cotton around the world."