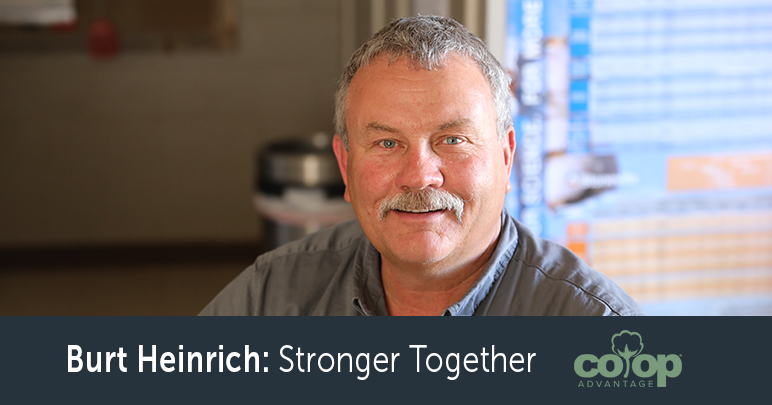 When asked to describe in one word what The Co-op Advantage® meant to 4th generation farmer Burt Heinrich, his answer is quick: Strength.
"Being part of a co-op allows strength in numbers. The input and membership of a group allows us to have competition in business we wouldn't be able to have on our own," Heinrich said.
Farming since the mid-1980s, it's a career Heinrich learned from his father and grandfather. It's one he loves and happily shares as a partner with his brother, and has since welcomed his son and nephew.
Like so many farmers, Heinrich is proof that farming is in his blood. Married to Shelley, who also came from a farming family, they are parents to four children – all with eyes on the agricultural industry in one way or another.
Even his "Plan B" didn't keep him from the inevitable of farming. While the cotton industry felt deep cuts in the early 1980s, Heinrich initially went to work as a fuel injection technician in Amarillo. There, he said, he learned the best of people skills … but the farm kept whispering in his ears.
He answered that whisper and returned to West Texas – along with brother, Eric – to partner on farming, in what is now known as Heinrich Brothers. And more than 30 years later, he's never looked back.
Heinrich is fiercely devoted to family, the legacy of future farmers and farm policy.
As it pertains to family, like all farmers can relate, it's a true discipline in values and working for what you get.
"Farming is in our (family) blood. But everything you get has to be earned. Just like I was taught, and just as I did."
It's a value not only taught to his family, but also for future young farmers. As Heinrich puts it, "Young farmers have to know the toughness of this career. There are so many unknowns – especially the annual dance with Mother Nature."
That's why Heinrich is such an advocate of being a grower-owner. Being part of a cooperative, he said, is "a bigger bang for not much buck."
So what does that mean? Quite simply, it goes back to his comment on strength in numbers. By having a common goal, we are stronger together.
"The money invested by grower-owners in the cooperatives allow farmers to keep going, and allow dividends to fill in the gaps of bad years," Heinrich said.
Heinrich's comments echo our last blog updating the latest news as it pertains to Farm Policy. There is hope.
Heinrich said he supports fair trade with all nations, but hopes our Congress will work to keep the bottom from falling out of our agricultural market.
"I'm glad our legislators have listened. And I'm glad cotton is back under Title 1, in addition to the USDA's ginning cost share assistance," Heinrich said. "But we (as farmers) have to keep being vocal."
Heinrich explained that farmers work hard to provide products and farmers are second-to-none in living and working the land we all hold dear.
That said, no one is better prepared to tell the story better than those who work our land all across the supply chain.
"If we don't promote our product, no one else will," Heinrich said.
Heinrich's strength is one example of The Co-op Advantage.
We encourage and look forward to hearing your story as well. After all, we are stronger together.