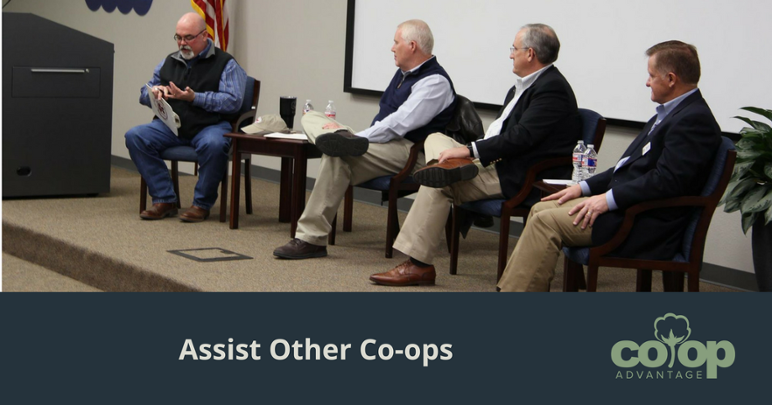 Just as there is cooperation within a co-op; there is cooperation among co-ops.
After all, just as grower-owners achieve more together through each co-op, each co-op is more efficient when working with other like-minded businesses. That is the crux of co-op principle six in which real ownership and cooperation among cooperatives come together.
Pure and simple: That is The Co-op Advantage®.
Many growers have invested in local co-op gins and the regional cooperatives. By assisting and investing in other co-ops, grower-owners have increased value, greater returns and ultimately, a better bottom line.
By assisting other co-ops, there's greater ownership throughout the entire supply chain. Growers reap the economic benefit of ownership and control of their cooperative businesses. Over the long run, that adds up to significant dividends paid back to those growers.
While each of the four Co-op Advantage regional sponsors live and breathe the seven co-op principles being discussed in multiple blogs this month – it is possibly this principle that best illustrates the Co-op Advantage.
Under principle six of Assist Other Co-ops, there is no greater example of the four regional sponsors – Plains Cotton Cooperative Association (PCCA); Farmers Cooperative Compress (FCC); PYCO Industries, Inc., and Producers Cooperative Oil Mill.
All four work to support and cooperate among each other on a daily basis to better producers' bottom lines, assist throughout the supply chain and ultimately provide the best possible sustainability for their grower-owners.
The Co-op Advantage highlights ways that cooperation among cooperatives not only survives, but has thrived for more than a century. Today, regional cooperatives continue to look for ways to improve the total benefit of ownership – and welcome all grower-owners who have made the decision to enhance their bottom lines through real ownership.
 Stay tuned next week as we take a closer look at the final co-op principle: Invest In Their Community