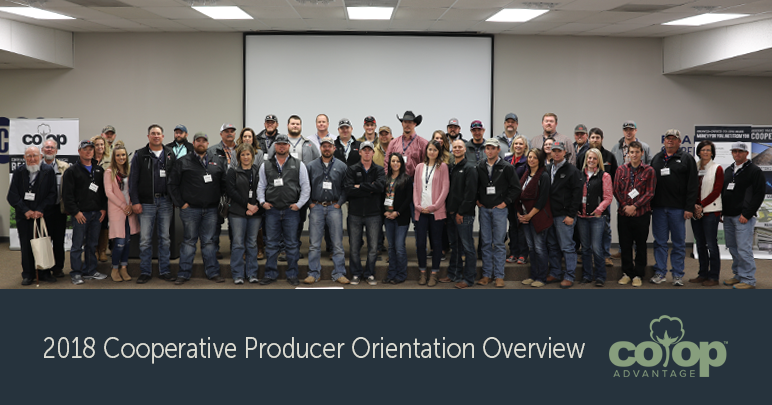 For the third consecutive year, PCCA, PYCO and FCC came together to educate growers of all ages on the advantages of doing business with cooperatives. February 1 was filled with just as much fun as education – attendees literally traveled through three segments of the supply chain at the Cooperative Producer Orientation and gained experience with their regional cooperatives.
Forty-six growers and their spouses from across the region attended the day-long event, designed to fully explain the co-op structure, how attendees can be more involved, and a hands-on opportunity to witness what is happening within each regional co-op.
The goal was not only to thank grower-owners for their support of the cooperative system, but also to explain the meaning of real ownership and build new relationships to build upon in the future.
PCCA President and CEO Kevin Brinkley explained to attendees the multitude of choices along the supply chain, while at the end of the day, cotton producers have just one common goal: sell cotton to receive the highest possible value.
"But that narrows the choice to two. Sell it on your own, or join a co-op in order to have the support of an organization that works for you," Brinkley said. "By cooperating and competing together … we're able to all march in the same direction."
PYCO President and CEO Robert Lacy echoed Brinkley's comments.
"By pooling services, we are able to pool resources – and that returns to (grower-owners) in the form of dividends. None of that happens when a farmer goes it alone."
Ron Harkey, FCC President and CEO, added, "Co-ops equal engaged membership – through accountability and governance. And that is hard to compete against. When all things are working together, we all benefit.
"You get out of it what you put into it."
Throughout the morning session, attendees agreed the main message was that of, "United we stand, divided we fall."
The brisk afternoon didn't affect tours of both FCC and PYCO for attendees to see first-hand FCC's warehousing process or PYCO's cottonseed storage and processing.
PYCO's mission is to obtain the highest value possible out of a ton of cottonseed. Orientation attendees saw that mission come to light during their hours'-long tour of the facility.
Likewise, FCC, whose mission is to enhance member profitability by providing efficient, reliable service to the cotton industry proved their commitment to that mission as attendees toured the largest warehouse in the world – right here in Lubbock.
PCCA enlightened attendees with their mission of ensuring the long-term profitability of grower-owners through value-added marketing programs and through service to their gins.
No doubt, the message was received. Orientation attendees, often wide-eyed, yet always taking notes, remarked over and over that they were glad to be grower-owners.
Stay tuned to future blogs as we highlight farmer stories, what they learned from the orientation and how their lives intertwine with other grower-owners.