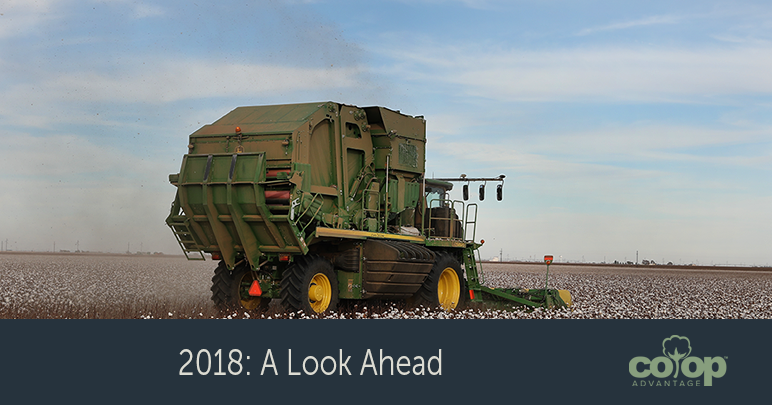 Happy New Year to all those along the cotton supply chain. It has been a tremendous year with lots of hard work and dedication. As we look to the year ahead, The Co-op Advantage® and all four regional co-sponsors are committed to keeping you updated through blogs, videos and other content on just what it means to be a grower-owner.
If you are already part of a co-op, please stay engaged with The Co-op Advantage in order to learn more about how real ownership affects you in every part of your farming efforts. If you haven't yet joined a co-op, may your New Year offer a resolution to consider joining. After all, co-ops work hard for you because we work for you.
Stay tuned as we bring you important policy information as our government continues to work on the next farm bill – much of which will greatly affect our nation's farmers. Our next blog will break it down, and explain how this year's reform could affect all those along the supply chain.
This year, we also encourage you to share your stories with us. We need your stories. What does that mean when we ask those in agriculture to share their stories? After all, is providing a play-by-play of farming operations enough? Do grower-owners – or those thinking of joining a co-op – really want to hear about multi-generational farming, a no-till operation, the old horse-drawn plow sitting behind the barn that your great-grandfather used?
The answer is a resounding, "Yes!"
The Co-op Advantage asks grower-owners to share their stories for one major reason: Without the story coming directly from you – it will be told by someone else; and quite possibly the wrong way. As agriculturalists, so many in the industry are misrepresented  – especially in the media.
You have a great story to tell, like so many others in the agricultural industry. One example of the spirit of agriculturalists recently happened in a true exemplification of cooperation among cooperatives – a founding principle among cooperatives:
Last December, Co-op Advantage regional co-sponsor PYCO Industries, Inc. came to the aid of fellow regional co-sponsor Farmers Cooperative Compress (FCC) with both equipment and man power to assist in helping to fight an FCC warehouse fire. It was all done without hesitation – offering a true example of coming together for the good of the co-op and its grower-owners.
You are the one(s) who can tell your stories best. And, if you're unsure of where to start – stay tuned to our special content this month on "How to Tell Your Story Both Online and In Person." The Co-op Advantage will offer tips for how you can take control of your story and explain the "why" behind the need, how you can effectively communicate your story; and how it can be done one step at a time.
If you're still uncomfortable about how or where to start, The Co-op Advantage is here to help you tell you story at any given time.
We hope this year – if you haven't already – that you will join The Co-op Advantage and see the impact it can have on you.
Happy 2018. We look forward to keeping you informed; and we hope to hear your stories.
That is The Co-op Advantage.